Book Tweet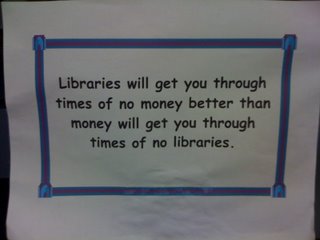 This isn't actually a Tweet at all - it was a sign posted on the door of the
Casco Public Library
, in Casco, Maine. And no, it's not a perfect 140 characters.
Still, were I to Tweet something about books (were I on Twitter, and able to Tweet), this is a sentiment I'd be thrilled to echo. So I'm doing my bit by posting it here instead, with full credit to library in which I found it - and to the place
from which it apparently originated
.
Labels: books, contemporary society, Miscellany