Old Signs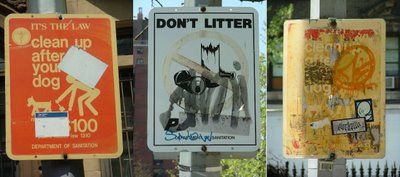 Living in New York – an old city by the standards of this country – one is surrounded by a constantly shifting combination of the past, the present, and hints of the future. New apartment buildings rise up next to existing, stately pre-war structures; new parking meter systems arrive to replace old ones; new bus stop shelters are erected next to newsstands from a bygone era. This is to say nothing of the dramatic changes – like the conversion of the
old, stately Apple Bank
(really the Central Bank) building into high-priced apartments – or the monumental ones, like Mayor Michael Bloomberg's proposed creation of a series of buildings over the Hudson Railyards.
One element of aging that I find perpetually engaging concerns signs. Signs in New York City, as elsewhere, seem less inclined to change with the surroundings. Signs seem to be forgotten, orphaned, even as the streets or buildings or whole neighborhoods around them evolve. Even when new signs are added, old ones are often left in place, anomalous reminders of some recent or not-so-recent past – and an inviting home for the graffiti and other detritus that is yet another aspect of life in New York.
So, here are some aging signs from the Upper West Side. Oddly, there seems to be a theme here ... one not much different from another set of signs about which I
wrote back in 2006
. And even though these are from the West Side, one sign does have a sticker that says "Yorkville"; whether that's represents an invasion from the East Side or a sense of Yorkville's value, we'll never know.