Water, Water Everywhere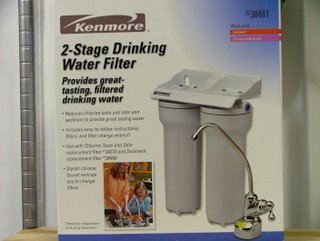 Well, it's done: our
Kenmore 2-Stage Drinking Water Filter, Model #38461
, is installed, and it works beautifully. Reports I read online of water pressure problems have not been an issue, and after a few minutes of running water through the system to prepare the filters, everything has been great – and our water tastes much, much better. Moreover, as a follow-up to my previous two posts on this issue ("
Sears, Please Hold
" and "
Sears Responds
"), I did receive three free filters from a very kind Sears store manager; but no note was included, so this will have to do by way of thanks.
BUT, if the installed water filter seems like it should be the end of the story, there are two other notes worth making. Readers of my "
Sears, Please Hold
" column will recall that my original issue was trying to determine what model replacement filters would be required for this water filter unit. When the box arrived and I unpacked it, I was more than a little amused to find that right there on the front were the replacement filter model numbers! This makes it even more difficult to understand why it was so hard to get this information from Sears itself.
Just as funny is that the box directs buyers to call the toll free Kenmore Water Line at 800-426-9345, or look on
kenmorewater.com
for help. I did not call the number, but I did go look on the web site. This model filter (#38461) is not shown there as of today; the previous model,
#38460 is listed
, along with the corresponding replacement filter information. The Sears.com web site does not have any reference on the various filter product pages to the Kenmore Water Line or its web site. Once again, not very helpful.
Fair is fair: I'll add my positive product feedback to the relevant Sears.com page, and tell Consumer Reports, too. Seriously, though, as I said in my first post on this issue: these are the kinds of comedy-of-nuisances that discourage customer loyalty, even when product quality is strong. For Sears' sake, I hope someone fixes these things soon.